A Jalapeno Monterey Jack & White Cheddar Bake
I made my first from-scratch recipe this week. My partner has a mac and cheese recipe that he adapted from a broccoli bake, so I thought it would be a good starting point because he has made it for me before. Of course, I was the one who made it this time, but he was there and able to direct me. I enjoyed the personal direction a lot more than having to follow a recipe. To clarify, I don't dislike recipes and as a person who cooks quite often, I am always looking for new ones to try. However, because this project also focuses on the personal nature of mac and cheese I found the method of instruction very fitting.
Ingredients:
500g macaroni (we had a 900g bag and used just more than half)
1/2 cup butter
1/2 cup flour
2 cups of milk
1 cup densely packed grated Monterey Jack Cheese with Jalapeno Peppers (loosely it equates to approximately 2 cups)
1 cup densely packed grated Old White Cheddar Cheese (also approximately 2 cups when loose)
1 cup sour cream
Breadcrumbs according to preference (we used approximately 1-2 cups)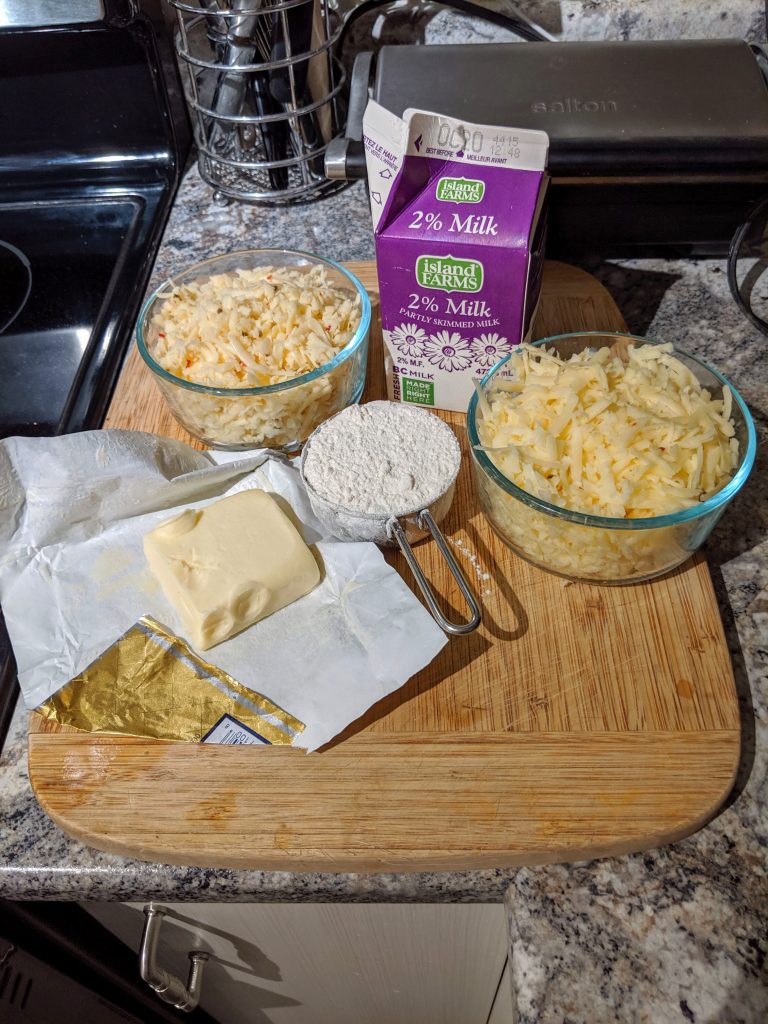 Instructions:
Preheat oven to 400 degrees (F) or 200 degrees (C).
In a large pot, boil salted water and cook macaroni for approximately 9-12 minutes until al dente (or however you prefer your pasta).
In another pot or high-sided fry pan, melt the butter then add the flour whisking until smooth. This makes what is called a roux. A roux is a combination of fat (in this case butter) and flour that is used to thicken sauces.
Slowly add the milk in batches, about 1/4-1/2 cup at a time, whisking constantly.
Whisk in the grated Monterey Jack until fully melted.
Whisk in the sour cream.
Add cooked pasta to the sauce and mix (I continued to use the whisk but any cooking utensil would work).
Once the pasta is fully incorporated, transfer it into a glass baking dish. Alternatively, if you make the sauce in a pot that is oven safe such as a Dutch Oven or Rock Pot, then the pasta can remain in the pot to bake.
Top the pasta with the grated Old White Cheddar (we also freshly grated more on top because we decided we needed it cheesier).
Sprinkle a thin even layer of breadcrumbs on top.
Bake for 30 minutes, or until the top is golden brown, turning the dish halfway through.
Remove from the oven and let sit for 5-10 minutes.
Serve and enjoy!
Analysis Using My 5 Categories:
Add-Ins – The breadcrumbs made for really great texture The cheese sauce was super thick and creamy, so having the crisp on top created a more diverse bite. Even though I only added one small element, it prevented the texture from being monogamous. Knowing now that I like breadcrumbs as a topping, it would be interesting to experiment with them more going forward. For example, seeing what kinds of flavours I could add into the breadcrumbs such as herbs or spices. I also think I might like to try pre-toasting the breadcrumbs.
Texture – A lot of this category was covered talking about the breadcrumbs. I think I can say definitely that I do prefer some textual difference over a consistently smooth mac and cheese, but I will most likely still try an all smooth recipe just to have that point of reference.
Colour – The colour of this recipe was definitely all natural. However, because it was an all white cheese recipe it wasn't particularly rich in colour. The browning of the breadcrumbs and cheese on top were the only source of colour. I think taste and texture take precedence over colour, but it would be interesting to compare how the taste of a white cheese mac differs from more orange cheeses.
Cohesiveness – This was a verrrry gooey recipe due to the thick sauce. Baking it also contributed to it being quite cohesive, as afterwards you were able to scoop out sections that held their shape. For taking this category further, I will probably try to see if I can find a recipe that doesn't involve baking it and see how that affects thickness and shape.
Flavour – This was a great recipe flavour wise. It was rich and creamy, but the Jalapeno in the Monterey Jack really gave it a pop. I definitely think there is room for more flavour, but the Jalapeno was a great aspect to feature this time. To develop this category I think trying out other cheeses as well as more add-ins like I discussed above is a great way to go.
Overall, making this recipe was incredibly fun. It made lots of leftovers which was awesome for lunches, and it was one-on-one time with my partner. I also learned about what a roux is and what it does, which I think is valuable cooking knowledge that I can apply to other recipes.  Additionally, through the process I was able to further develop my 5 categories, and I now have an even better idea of the kinds of recipes that I want to try in order to include all of the different available methods/techniques.
Here are some bonus photos of my puppy, Finn, helping pick out the pots and then getting really excited and moving too much for a clear photo (which perfectly sums up how I feel about mac and cheese).